ACHIEVING MORE DESPITE OUR SIZE...
•Year established: 1994| Registration: 1999
•Special Consultative Status with the Ecosoc.
•BELIEVE, ACT AND ACHIEVE.
---------------------------------------
VERSION FRANÇAISE EN BAS DE LA PAGE.
(Il ne s'agit nullement de la traduction de l'Anglais)
---------------------------------------------

ADDRESS:
2620 Quintara Str. CA 94116-1115 USA
Ph.: 001415-519 2825

MAILING:
61, rue de Carouge|1205 Geneva, Switzerland
WHATSAPP: 004179-721 3155|004122-503 9278 www.nvi.populus.ch| newvisintl@yahoo.com|male.nyembo@yahoo.com

NVI CONGO:
56, rue Lubudi|Commune de Lemba|Kinshasa, RDC
Ph.: 0024381 605 1418

----------------------------------------------

BRIEF HISTORY

•We began in 1994, for helping displaced people inside Zaire. We established an informal organization, under the name of CONSTRUISONS, meaning, "Let's build".

•Because of Congo's civil war, in 1997 we moved the headquarters to the United States and we adopted a new name, NEW VISION INTERNATIONAL. We re-defined our mission: "to fully participate in the development process in Congo, by focusing on equal education opportunities. And fight poverty by enticing ethical investments in the areas of Food Security, Energy, Infrastructures, and Bank and Finance."

•In 2000 we opened a liaison office in Geneva for partnering with the United Nations (UN) and participating proactively in world affairs, with a focus on Development Programs in the DRC.

•We relocated in Kinshasa from where we carry out our activities.
In order to facilitate contacts, mails should be sent to 61, rue de Carouge 1205 Geneva, Phone: 4178-920 9805. c/o Bernard Nyembo

•In 2011 we reoriented our mission to "cultivating conscience in order to fight poverty through jobs creation with a focus on the Food Industry, Healthcare, Energy and water."
• We identified four core priorities, followed by three secondary plans.
• We took a sabbatical year in order to participate proactively in such programs.

A FEW HIGHLIGHTS OF OUR ACTIVITIES:

2018: Special Consultative Status with the ECOSOC in New York.


2017: NVI reoriented its activities by investing in the future.

We started Conveying clean water to the village of Mugnyanga, in Kalambayi, district of Ngandajika in the Kasai.




What we did...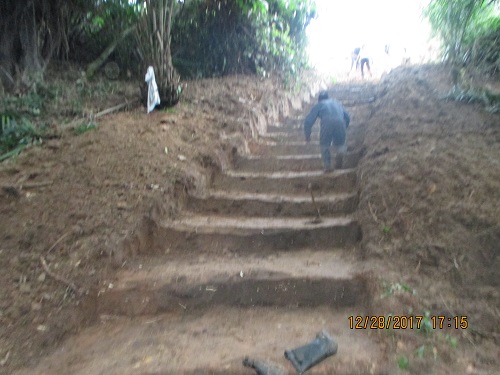 Basically NVI started volunteering for providing consulting, design, engineering, research, laboratory testing, pilot plant testing, application development and training, etc. Eventually anticipating innovative alliances, and an ethical marketing approach for facilitating social investments with new paradigms.

The framework is built in two steps:
•Phase 1– Expansion: go beyond associations and women cooperatives, adding value which meet internal, and end-point security needs and offering solutions which will extend from very high end all the way to consumer market.
•Phase 2– Unification: The creation of the unified security architecture with the introduction of our platform and the corresponding integrated product version, all of which come together for unique centralized management solutions.

NVI developed 8 business plans pertained to the above SDG's. The principal goal is fighting poverty and illiteracy in the rural communities by supporting women cooperatives for entrepreneurship.
NVI participated in 12 international events, including the World Forum

2016: Training women associations.

NVI was in the field to promote women's cooperatives in three main areas of social entrepreneurship. Our duty was essentially assisting in writing the following proposals and feasibility studies, chiefly:
•Assisting associations of women in the province of Eastern Kasai (DR Congo) in order to organize and modernize activities of agriculture. We trained 55 women.
•NVI participated in 13 international conferences.

2015: Ecosoc and Financing

Prepare the papers to support the consultative status with Ecosoc.

NVI focused on becoming social investors independent from donors by writing five books for which we are seeking editors:
•Rita (in 3 books of 350 pages each), a trilogy of a true story about a heroine, who died at the age of 18. This apologetic book is an appeal to awaken African youth to take a stance for its own destiny.
•MLM et 5,000 Emplois: an Essay about job creation. (255 pages).
•The Lilith's Epic. - A trilogy about a true story of treason and conspiracy. (288 pages.)
Money from the sale of the above books will replenish NVI's accounts.

Job accomplished:
- Approach translators of books from French into English.
- Find the editors.

• 2013: We attended 38 international conferences at the U.N., and we participated in 25 side events. We made three presentations in Geneva, in Vienna and in Washington DC.

• 2012: We re-applied for the Consultative Status with the Ecosoc in New York. But our accounts were hacked.
We made four presentations in Geneva.

• From January 2012 to Dec. 2012 we participated proactively in 19 international conferences and 15 side events.

• 2011: We attended 18 international conferences at the U.N., and 10 side events. We made three conferences in Kinshasa.

• 2010: We participated in 12 international conferences at the U.N., and 8 side events.
- In Sep. 2010 we applied for the Observer Status with the United Nations Conference on Trade And Development (UNCTAD) in Geneva.

• April 2006 – Dec. 2008: We suspended activities because of war in the Congo.

• Jan. 2005 – Mar. 2006: Building a school in Kalambayi, East Kasai province. (Activities suspended because of insecurity.)

• 2003-2004: International campaign for raising money for our core projects.

• June 2002: NVI granted the Civil Society status by Ecosoc, New York

• June 2000 - 2001: We opened a liaison office in Geneva. We participate in the UN special programs on humanitarian and poverty in Africa.

• July 1994 - June 1999: Assisted 778 displaced people with medicine and in-kind gifts.

Let's think and act together about affordable solutions in order to keep promises leading to results.

Thank you.
_______________________________________________


FRANCAIS

•CROIRE, AGIR, ACHEVER.

HISTORIQUE

•Nous avons commencé en 1994, avec pour objectif d'assister les populations déplacées à l'intérieur du Zaïre. De ce fait nous avons lancé une structure informelle, appelée CONSTRUISONS.

•A cause de la guerre quasi civile, en 1997 nous avons déplacé nos activités aux Etats Unis d'Amérique et avons changé de nom en Nouvelle VISION INTERNATIONALE, en sigle, NVI.

De ce fait nous avons redéfini notre mission : "participer activement dans le processus de développement du Congo, en nous focalisant sur l'égalités des chances en éducation. Et combattre la pauvreté par l'encouragement de la femme et le soutien des investissements éthiques dans les secteurs de la production et de la sécurité alimentaire, l'eau potable, l'énergie, les infrastructures, la banque et les finances."

•En 2000 nous avons ouvert un bureau de liaison à Genève afin de participer pro activement aux réunions et événements organisés par les Nations Unies (N.U.) sur les problèmes du monde, avec un regard sur le Congo.

•Nous nous sommes établis à Kinshasa d'où nous développons nos activités.
Pour des raisons pratiques le courrier doit être envoyé à l'adresse suivante : 61, rue de Carouge 1205 Genève, Tél. : 4178-920 9805. c/o Bernard Nyembo

•En 2011 nous avons repensé notre mission : "cultiver la conscience dans le but de lutter contre la pauvreté à travers la création d'emplois tournés vers l'industrie alimentaire, les soins de santé, l'énergie et l'eau."
• Nous avons déterminé quatre priorités, suivies de trois programmes secondaires.
• Nous avons pris une année sabbatique dans le but de participer pro activement dans ces plans d'actions.


QUELQUES INDICATIONS SUR NOS ACTIVITES :


Note:
CI = conférence internationale
EC = événement parallèles.

• 2018: Statuts Consultatif Spécial à ECOSOC, New York.

• Depuis 2013 à ce jour : nous participons en moyenne à 40 CI et 25 EP organisées par les Nations Unies à Genève, à Vienna et à Washington DC.

• 2012 : nous avons à nouveau sollicité le statut consultatif à Ecosoc à New York. Malheureusement nos comptes ont été piratés.

•Nous avons tenu quatre conférences à Genève.

•Nous avons participé pro activement à 19 CI et 15 EP.


• 2011: Nous avons participé à 18 CI et 15 EV organisés par les Nations Unies.

Nous avons tenu trois conférences à Kinshasa.

• 2010: Participation à 12 CI et 8 EP.
- Sept. 2010 nouvelle demande de statut d'observateur à la Conférence des Nations Unies pour le Commerce et le Développement (CNUCED) à Genève.

• Avril 2006 – Déc. 2008: Nous avons suspendu nos activités à cause de la guerre et l'insécurité au Congo.

• Jan. 2005 – Mar. 2006: construction d'une école à Kalambayi, dans la province du Kasaï Oriental.
(Activités suspendues à cause de l'insécurité grandissante.)

• 2003-2004: Campagne internationale pour lever les fonds pour nos projets.

• Juin 2002: L'ECOSOC à New York nous reconnait le statut de société civile.

• Juin 2000 - 2001: ouverture d'un bureau de liaison à Genève. Dans le but de participer à certaines sessions des Nations Unies - sur les programmes spéciaux concernant l'humanitaire et la lutte contre la pauvreté en Afrique.

• Juillet 1994 - Juin 1999: Nous avons fourni les médicaments et le nécessaire à 778 personnes déplacées de la région (province) du Shaba (Katanga).


Travaillons ensemble sur des solutions possibles dans le but de réaliser les promesses et d'atteindre les résultats escomptés.

Nous vous en remercions.


New Vision International
Address: 56, rue Lubudi
Commune de Lemba, Kinshasa, RDC
Ph.: 0024381 605 1418|004178-920 9805| WHATSAPP: 004179-721 3155 |www.nvi.populus.ch|
newvisintl@yahoo.com|male.nyembo@yahoo.com